Bentley Continental-R
1993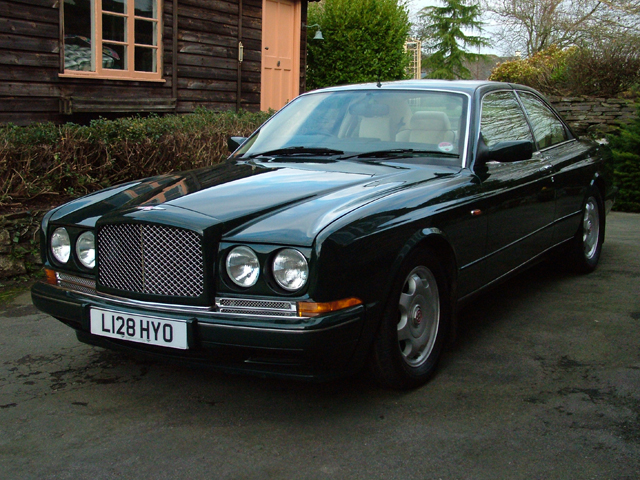 This was the registration mark that came with the car. I bought it a more appropriate one,
which I was awaiting at the time of this photograph.
The laser-cut grille and stainless-steel mesh vents are retro-fits.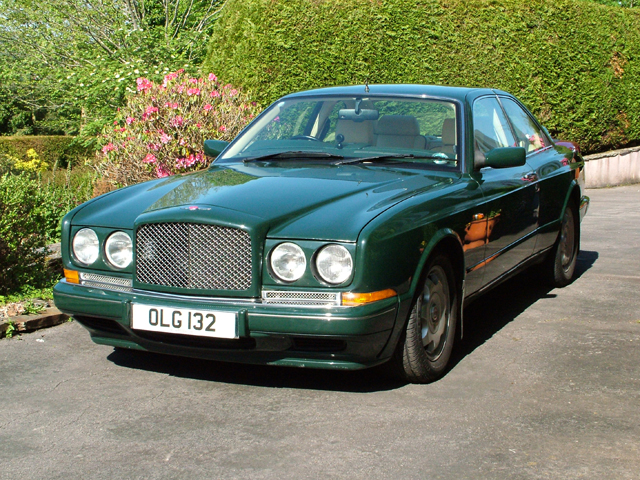 A "timeless" plate is more suitable. OLG, followed by a 3-digit number, is appropriate
because OLG 490 was issued by Cheshire County Council for the
prototype R-type Continental Bentley in 1951.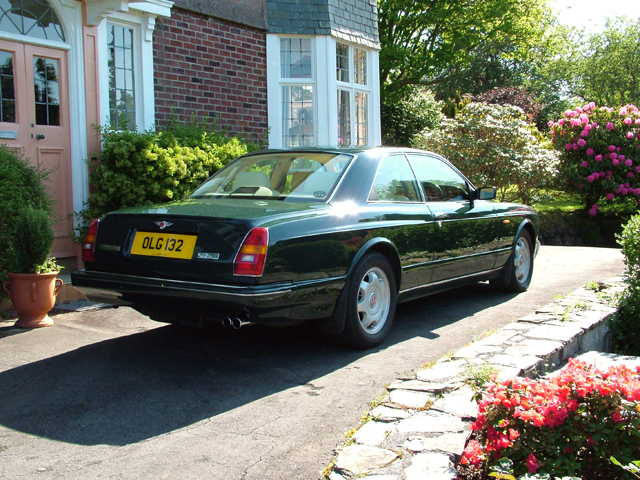 The rear end is much more stylish than the 4-door cars.
Coachwork design is by H J Mulliner-Park Ward (now a division of Bentley Motors).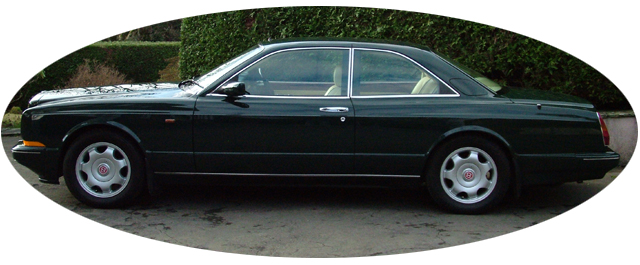 Bentleys need a fair-sized garage. Overall length is over 17 feet and I have
about a quarter-inch clearance on either side when insinuating it between the sliding doors.
---
Impressions
Only about 1290 of these 2-door coupes were made, between 1991 and 2002. They have the standard, turbocharged 6750cc engine that has been tried and tested since the Mulsanne Turbo came onto the market in the early 1980s. Indeed, the basic design of the engine dates back to 1959, when Rolls-Royce installed the V-8 into the Silver Cloud II/Bentley SII. Almost every component has since been modified, but there remains a sense in which this 50-year old design still lives on into the 21st century. The engine was finally discontinued in 2020 when production of the Mulsanne (by now powered by a twin-turbocharged, 600bhp version of the engine) ceased.

The mechanical elements of the Continental-R are pretty much standard "cooking" Turbo-R, but the coachwork is by H J Mulliner-Park Ward, which has been wholly-owned by Rolls Royce since the early 1960s and is now a division of Bentley Motors. Although, with the demise of a separate chassis after the last Silver Cloud III/Bentley S3, the overall body shape of the "coachbuilt" cars has had to be standardised, the interior fittings have remained potentially freestyle.

That said, anyone whose last RR/B motoring experience was of a Cloud/S-type, will find the instrumentation and controls pleasingly familiar; the same elegantly understated switchgear; the same floor-mounted pedals that hinge precisely beneath the feet. The thin-rimmed steering wheel, albeit now leather-gloved, also harks back to the 1960s, encouraging "finger and thumb" delicacy in place of the death-grip brutality engendered by the current trend towards chunky-clunky rims; alas, modernity has now despoiled the steering wheel's appearance with an ugly airbag-laden centre boss in place of a central horn button, yet the feel between the fingers remains familiar. Even the fuel gauge, with its russet "Min oil" marker, appears not to have changed in nearly 50 years, although the jewelled bearings, with their chromed adjusting screws, have disappeared from the speedometer and tacho.

The irremediably nostalgic will look in vain, however, for an umbrella-handled handbrake beneath the dash. Instead, an American-style, foot-operated parking brake, released automatically when a driving gear is selected, affords the only exercise offered to the driver's left foot. The "feel" of the footbrake also contrasts markedly with S-type's minimum-movement, "harder you push, quicker you stop" mechanical servo-assisted system, but will be familiar to Shadow/T-type drivers.

No Bentley has ever been, in absolute terms, an economical means of motoring over to Tesco's for a box of eggs: mpg at fill-up has varied from 11.3 to 20.2 over the 4000 or so miles that I have covered in the first year of ownership. Tyres are exorbitant: £1300 a set and not always easy to find - it seems that nothing else uses the recommended size, so it is a small, captive market. Servicing is 6-monthly and, apart from the major hydraulic service every 60,000 miles, not cripplingly expensive.
A "Crewe Service Clinic", arranged by my local dealership, revealed that my car would benefit from new brake disks and front dampers. By this time we had already diagnosed and fixed some minor oil drips and a slight exhaust leak and subsequent fitting of new disks and calipers all round has also stopped a small but irritating loss from the mineral oil system that serves the brakes and suspension. At the time of writing, I have not replaced the front dampers, so the front end is still a tad more "floaty" than it ought to be (fixed in 2009 - see next page).

One minor irritation is that the driver's side seat belt presenter has had to be taken out of service, because of a consistent habit of breaking the backplate of its little gearbox. The passenger side presenter did not work, either, when I bought the car, but I was able to remedy this and it has so far continued to work as it should. I suspect the ECM is faulty, but am reluctant to shell out for a new one until I am able to find out more about how it is supposed to work and confirm my diagnosis: replacement is a non-trivial task, involving removal of the rear seat and centre console as well as the BC pillar trim (also fixed in 2009 - see next page).

What no-one tells you when trying to sell you a Bentley is that a major hydraulic service is required every 60,000 miles. This is very expensive (several thousand pounds sterling), especially if done by franchised dealerships, but essential if the hydraulic system is to be reliable. It matters because the suspension and braking systems depend on the high-pressure hydraulics. I cannot imagine that trying to stop nearly 3 tons of motor car on the parking brake would be a whole barrel of laughs. This may well account for there being so many Bentleys on the market at around 60,000 miles.
Potential buyers of such cars would do well to pay careful attention to determining whether the major hydraulic service has been done ... and by whom. Paying top whack for what appears to be a nice, shiny Bentley, only to be presented, on ones first visit to a servicing establishment, with a bill for upwards of £3500 is apt to take some of the gilt off the gingerbread! Although there are some "specialist" workshops that do a perfectly thorough and competent job whilst charging somewhat less than a Bentley franchise, the trick is to know which.

I have nothing but praise for my local Bentley dealership and Bentley Motors's commitment to their products. Despite not having sold me the car, the dealership at once offered me an initial 153-point check - at no charge - and subsequently booked the car in for the abovementioned "Crewe Service Clinic", also free of charge, at which a visiting senior technician from the Crewe factory spends well over an hour inspecting the car and showing the owner what he has found. He then takes you for a road test, talking through his findings and diagnoses.

The driving experience is like no other. One sits significantly higher than in lesser marques. This significantly enhances the driver's view of the road and engenders an overall feeling of being thoroughly in control. The net effect of this is to mitigate the fact that it is a very large motor car: from a driver's perspective, it does not feel so. In fact, if one is in a hurry, it is astonishingly nimble, even on rural mickey-mousery, though it pays to be aware, in narrow lanes, where the last gateway or other such passing place was.
After the first nine months of ownership, I am not convinced that it is, all things considered, a better car than my Daimler SV8, which is quieter, faster, handles better and, having four doors, a good deal easier for my (rare) rear-seat passengers to access. In fact, the only issue on which the Daimler falls short is that it is not a Bentley.

So what has one paid all that money for? Well, there are two outstanding features: the finish and the build quality. The paintwork has been meticulously hand-flatted and polished to remove the "orange-peel" surface of sprayed paint. Even the most skilled spray-gunner cannot avoid this, and the only way to remove it is by hand-flatting with fine emery paper before polishing; this is skilled, labour-intensive work and therefore expensive. The build quality becomes apparent when one looks behind the trim. Remove a footwell trim and you find a 16-gauge aluminium panel, trimmed in Connelly hide and braced by aluminium angle, spot-welded at roughly inch-centres along its edges. Open the boot, and you are greeted with the same rich odour of leather that graces the passenger compartment, arising from the extravagently wide edge-bindings of the Wilton carpeting. Even your luggage travels first-class.
In short, you have paid for the accumulated craftsmanship of British coachbuilders, using materials that experience has shown to be best for the job, finished and assembled by hand and inspected meticulously to create a product that feels as though, with a little care and regular maintenance, it will last for 100 years.

For many, it simply would not be worth the trouble and expense. For me, it is.

November 2008
Edited July 2011, May 2019, November 2020.